Commercial Hood Repair is an Absolute Necessity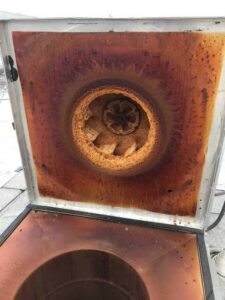 To prevent fires in your restaurant's kitchen, a commercial hood must be functioning. This means that you and your staff have to quickly repair any issues.
Chicago Hood Cleaning Pros is a commercial restaurant kitchen exhaust system and hood cleaning company that has been in business for years. We are available to serve all of the greater Chicago area. 
We offer services beyond restaurant repair, including servicing and maintenance of kitchen hood fans in restaurants and stadiums.
We will help you with your commercial hood repair needs. Call 773-207-4344 and speak to our Chicago Hood Cleaning Pros Team.
Signs that your Commercial Exhaust Fan Needs to be Repaired or Maintained
The purpose of kitchen fans is to remove heat and steam from the kitchen and then cycle fresh, clean air back into its cooking area. You will be notified if your kitchen hood or exhaust system needs to be replaced. You can look for these signs:
Hanging smoke or a lingering fog in your kitchen or dining area

Constant changes in indoor temperature can feel like you are constantly heating or cooling.

External odors can be detected in your kitchen

You suddenly notice an increase in dirt or dust in your kitchen

Difficulty opening the front door
Types and Styles of Commercial Hoods
When you are requesting maintenance or repairs, you will need to be aware of the differences between the two types. Type I is for repair and Type II is for maintenance.
Commercial kitchen exhaust systems all have the basic components of a vent hood and filters. However, Type I hoods are able to handle a greater variety of sirborne elements.
Type I Hoods are designed to remove moisture, heat odors, oil, grease and vapors.
Type II Hoods are able to remove moisture, odors, heat and heat but they do not remove smoke, oil, or grease vapors.
Preventative Maintenance Routine For Restaurant Hood Vent Repair
You must ensure that your commercial kitchen meets all safety standards. For this to happen, you will need to schedule a maintenance inspection with a certified kitchen exhaust cleaner.
Maintaining your kitchen's hood in great condition can be done by washing it with soapy hot water and scheduling a professional maintenance service from Chicago Hood Cleaning Pros.
Commercial Hood Cleaning: Benefits
Regular preventive maintenance can help avoid costly repairs to the hood vents. These emergency situations could disrupt your business and cause damage to your reputation.
Your company will reap many benefits from commercial hood cleaning, not least the ability to reduce fire hazards. The commercial kitchen exhaust system maintenance and cleaning will make it safer and more comfortable for employees, which in turn can lead to higher productivity. You can keep your hood in tip-top condition by:
Ventilation should be improved

You can help maintain the climate control at your restaurant. This includes humidity control.

Reduce heat and humidity stress to wood walls and furniture.

Prevent the spread

Keep your insurance premiums lower

You can prevent potential commercial kitchen exhaust-hood repair problems from arising

To avoid any penalties, make sure that you comply with the fire code.
Commercial Kitchen Hood Repair Services Trusted
Chicago Hood Cleaning Pros boasts more than 30-years of combined experience in handling commercial exhaust system repair, commercial lighting repair, and commercial engine repair. When you call us, we'll put our experience to work for your in Oak Park, Cicero, Berwyn, Forest Park and surrounding areas.
Chicago Hood Cleaning Pros: 773-207-4344.