Tips on Cleaning Your Kitchen Hood More Often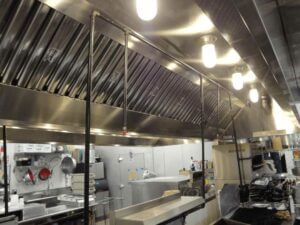 Is it been a while that your kitchen hood has been cleaned? Cleaning your hood vent should be done regularly, sometimes even monthly, to prevent dangerous kitchen fires. Chicago Hood Cleaning Pros will ensure your kitchen's safety with thorough, affordable commercial-hood cleanings.
Kitchen Hood Cleaning Reasons
Commercial hoods are often cleaned to prevent grease from building up in the ductwork. This can lead to many problems.
Disease Prevention

Grease attracts vermin and range hood cleaning promotes good hygiene.

Enhanced Ventilation

The kitchen exhaust fan cleaning prevents lingering smoke and steam from entering your kitchen.
Code Compliance
Commercial kitchen owners who wish to comply with the fire code must maintain a routine commercial hood cleaning or risk losing their business.
Insurance Premiums Can be Reduced
Insurance companies offer discounts to kitchen owners who keep their kitchen clean.
Lower Fire Hazard
Professional range hood cleaners carefully inspect and scour the hood to lower the likelihood of kitchen fires.
To improve fire safety, follow the NFPA kitchen hood cleaning requirements.

The NFPA's (National Fire Protection Associations) requires certified and trained staff to clean the exhausts and hoods of restaurant kitchens. Here is the cleaning schedule they are required to follow:
MONTHLY: Systems that support solid fuel cooking operations

QUARTERLY: Systems for high-volume cooking operations, such as 24-hour, charbroiling, and wok cooking

SEMIANNUALLY: Systems that support moderate-volume cooking operations

ANNUALLY: Systems for low-volume cooking operations like churches, day camps or seasonal businesses, as well as senior centers.
According to NFPA Kitchen Hood Cleaner Requirements: "Upon inspection, if the exhaust system is found to have been contaminated by grease-laden vapors deposits, the entire system shall be cleaned out by a properly trained, qualified and certified person(s )…").
Furthermore, grease removal devices, fans and ducts as well as hoods, should be cleaned in order to remove combustible substances before surfaces become heavily contaminated by grease or oily slime.
Download the "NFPA 96" catalog to get more information and a better understanding of the requirements. It is available for free at the NFPA Website.
The whole exhaust system includes the fan, filter, fan, and all horizontal and vertical ductwork.
Know When to Clean Your Commercial Hood
It's best to clean your commercial hood whenever:
Your hood isn't clearing the smoke from your kitchen.

The motor is now noticeably more loud.

You have consistently cooked a large amount of dishes.

You notice persistent odors.

You are about to prepare a large dinner, such as Thanksgiving dinner.
How Often Should You Clean Restaurant/Commercial Hoods?
Your type of hood, as well as its frequency of use, may dictate how often you clean your restaurant or commercial kitchen hood. To ensure safety for customers and employees, a commercial hood or restaurant's hood needs to be cleaned monthly. Some establishments such as hospitals can have their hoods cleaned every 90 days if they are not subject to a high level of cooking demand.
How to do a Hood Cleaning
You might be curious about how to clean kitchen range hoods efficiently to get rid all the grease. Cleaning commercial hoods is a multi-step procedure that involves the following steps:
Begin by popping out or sliding out your reusable filter.

Use a dishwasher safe cleaning solution and degreaser to clean the filter without grease.

Clean the filter by rinsing it. Next, rinse the filter and place it in your commercial hood.

Spray on the degreaser to clean the hood. Let it sit for around 15 minutes. Next, scrub the hood and rinse.

Also, clean out the grease vent.

If the grease remains in your vent, you should contact a professional.

You can also clean the blower wheel with the same degreaser.

If the fan performance is not improving, it's time to replace the motor.
Professionals Can Help You
Chicago Hood Cleaning Pros can help you clean your kitchen hoods in the greater Chicago area. Chicago Hood Cleaning Pros boasts over 30 years of experience in cleaning hoods and is proud to offer cleaning services for major chain restaurants.
Our highly skilled technicians can inspect any commercial or residential hood and make your property safe for another delicious meal.
Call Chicago Hood Cleaning Pros at 773-207-4344!